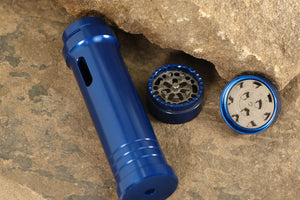 Alternative Health and Why It's Good for You
And Information About the Best Cannabis Accessories to Use
Alternative health (aka alternative medicine) refers to medical treatments and practices that are holistic in nature, meaning they don't employ traditional pharmaceuticals or drugs. Instead, the treatments and practices used are non-pharmacological and organic.
The theory is that alternative health has the potential to either supplement or totally replace certain aspects of traditional healthcare treatments you'd receive from a physician.
The Main Types of Alternative Health
Alternative health comes in many forms, and some forms are far more accessible than others. It also bears mentioning that specific types of alternative health may not be legal in your state. Here are the top four alternative health methods that are most commonly used today.
#1 – Marijuana/CBD products
It's no big secret that marijuana has been used in a recreational sense for many years. Only recently have changes in legislation allowed for the legal purchase and use of marijuana and CBD products in certain states. Many of these states allow for the use of marijuana and CBD products as a means of alternative health and therapy.
The following are the top ailments that marijuana and CBD are used for:
Alzheimer's
ALS
Cancer
Crohn's disease
Epilepsy
Seizures
Hepatitis C
HIV/AIDS
Glaucoma
Multiple sclerosis
PTSD
Chronic pain
Nausea
It's important to note that marijuana and CBD usage are not cures for these ailments; however, they have proven to be effective in minimizing the symptoms in a way that decreases reliance on pharmaceuticals and potentially addictive prescription pain medications.
Those who are interested in obtaining CBD or cannabis products should first check the current laws of their state. Your state laws will determine if you're legally allowed to buy CBD and/or cannabis, and if you need the approval of a physician.
Cannabis accessories, however, shouldn't pose any legal issue. Cannabis products like weed grinders, cone loaders/cannabis cones, and other cannabis accessories should be legally safe to purchase, regardless of your state.
#2 - Acupuncture
Acupuncture is an ancient Chinese technique that is employed using very thin needles that are strategically placed in the skin. Although that may sound painful, the technique is renowned for being able to treat numerous ailments and medical conditions including:
Insomnia
Depression
Neck and back pain
Nausea
Anxiety
Due to the niche nature of acupuncture, it can be hard to find in certain areas of the country. You can kick off your search by Googling "acupuncture near me" or a similar phrase.
#3 – Chiropractor
People who are suffering with chronic neck or back pain typically think in terms of treating the pain using over the counter or prescription medications; however, that doesn't get to the root cause of the issue.
For musculoskeletal conditions that are causing pain, seeing a chiropractor is a holistic way to manipulate your spine and other parts of the body. The great thing about chiropractic medicine is that you usually will see vast improvement after only a single session. For more serious cases, you may consult a physician such as an orthopedic doctor.
#4 – Herbal Medicine
Herbal medicine is a huge staple in the alternative health field. Rather than relying on over the counter and prescription medications, herbal medicine utilizes plants, roots, leaves, flowers, and berries.
Herbal medicine has been known to treat health conditions such as:
Fatigue
Premenstrual syndrome
Allergies
Pain
Nausea
Of course, there are still a lot of questions surrounding the effectiveness of herbal medicine. If you are considering taking herbal medicine in lieu of traditional medicine, it's always a good idea to consult with your doctor first.
Find Cannabis Accessories Near You at Z Cannabis
For those of you that have a health condition or medical issue that you're treating using legal cannabis, it always helps to have the right weed accessories to properly prepare it. Z Cannabis just so happens to sell some of the best cannabis accessories in the entire industry. The cannabis products we carry include weed grinders, cone loaders/cannabis cones, and cannabis storage solutions.
One of the things that makes Z Cannabis products distinct is that we use aerospace-grade billet aluminum for our products. That means they are built to last far longer than other products that are made from plastic and inferior materials.
Some of our top cone loaders include the Grindz-n-Pack'r and the Fillz-n-Pack'r. We also carry a wide variety of weed grinders and premium cones that are easy to pack and burn evenly. You'll be able to enjoy the cannabis product of your choice without worrying about canoeing or uneven packing.
If you have any questions about Z Cannabis products, you can email us directly using the contact form on our website.
---